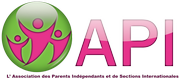 L'Association des Parents Indépendants et de Sections Internationales
Here are a few examples of what API has done and contributed to since its beginning.

Our actions 2016-2017
'ECOGESTE COLLÈGES 2016' :
Collection of 7 tonnes of paper for recycling for the benefit of UNICEF.
API coordinated the collection from CIV, Niki, Eganaude, César high schools and middle schools, and Haut Sartoux, Roquefort and Saint Maymes primary schools, as well as from lots of families...

API took part in the Back-to-School International Sections Picnic,
Initiation of the project in favour of electronic voting in the Parents Representatives Elections at the CIV Administration Boards,
Purchase of professional Pop-Corn and Candy Floss machines to be used by every API school for their annual events,
API gave the opportunity to API families to access group prices at Anthea, the Antibes theater.
LIV- Lycée International de Valbonne:
API subsidised a 3-D printer for the LIV students and for Premiere TPE student projects,
Request to renew the partnership with Lycée Simone Veil to train Terminales students for the politic science entrance exam. This request will be taken up at the next LIV Board meeting,
'Holi per cent' event to celebrate the 100 days before the Baccalaureat,
Support and help at the Terminales Prom, Secondes and Premieres Balls,
Support to the 'C.I.vert Group' to obtain the 'Label 3ED' qualification, the highest level, on June 9th 2017. This label designates the schools which participate in the sustainable development projects,
Participation in the organisation of the CIV carpooling project, initiated by FCPE. It was spread to all high schools around Sophia in September 2017,
Lycée Students free orientation Workshop for API families run by Françoise Oros,
Baccalaureat Graduation Ceremony in July: API ordered gowns and mortarboards for all Terminales students who wished to have one.
CoIV- Collège International de Valbonne:
Last minute partnership in June with Niki made the 3eme Prom possible for CoIV students: as in 2017 the administration refused to authorise CoIV 3eme students to have their ball at the CIV,
Repeated request at board meetings to have 'Technology' taught to every college student next year.
Lycée and Collège international de Valbonne combined actions:
Canteen Survey with students and parents in order to improve the quality of meals,
Constitution of parents canteen evaluation groups,
Replacement of missing teachers, i.e. the Physics teacher in Seconde and 4eme last year.
Collège Eganaude:
Participation in the kick-start of the 'Eco and sustainable Development' project. In progress,
The API project to buy lockers has been turned into the purchase of 15 columns of lockers by Eganaude in September 2017,
3eme Prom supervised by API parents.
Collège Niki de Saint Phalle:
3eme Prom organised in collaboration with FCPE on June 30th,
Petition to request the opening of an extra 6eme class due to the excessive number of students in each class,
Selling candy-floss and pop-corn during the Carnival party has allowed the collection of funds to buy tables and chairs to set under the trees in the playground.
And also our contribution over the last 10 years
As this is our main purpose, we took part in every board meeting and committee meeting in every school where API is represented,
API initiated the creation of an OIB committee to enhance the value of the OIB which is of primary importance when our children apply to university whether in France or abroad,
Again regarding the reputation of the OIB, the attention of CIV teachers has been brought to the importance of their comments in school reports for university applications,
After years of effort API obtained in 2014 the creation of an LV1(Langue Vivante 1) grade for OIB Terminale students to make their application to universities in France and abroad fairer. LV1 is easier than Literature in the OIB and this huge level difference doesn't show in the French application. The LV1 grade compensates this difference with respect to other students in France,
Our request to the Headmaster of the CIV to have a job information and orientation presentation for Seconde and Premiere students gave birth to the "Forum des Metiers" which has been taking place each year in March since 2008 with the contribution of many professionals,
Here are a few examples of our strong and permanent involvement in the many aspects of our children's school life:

to reduce the weight of school bags we asked the staff and the administration for a reasonable list of school supplies, the possibility to bring one book for two in class, anything that could make school bags lighter,
to improve the organisation of time-tables, at API's request, a time-tables committee was created at the CIV,
to follow-up teachers' absences to obtain their prompt replacement and to eventually catch up some of the missed hours when the absence is too long and impacts the teaching of the programme,
to discuss with the Inspection Academique the adequacy of the international section entrance test in 6eme,
to support the organisation of class exchanges in 4eme, 3eme and 2nde,
to keep asking for more study rooms so students have somewhere to work during gaps in their time-table and to prevent them from hanging around outside the CIV,
to get more lockers accessible to any students and not only 6eme students (2008-2009).

During the Science Week, API made a presentation to show students the danger of microwaves and how to use their phones safely,
Support for charity events: Race for Asia, Race against Hunger, ...
API made a large survey among CIV families on the adequacy of public buses for school transport: local authorities took into account our survey to plan extra buses at critical times for students, adapting their schedules to school hours between schools around Sophia and Gare des Messugues for instance,
Organisation of a Joint Information Meeting API/Lycée Simone Veil APE (parents association) for Seconde entrance.
At the same time, API is particularly concerned by the quality of international education within the French national education system. To that effect, API attended the first meeting of the French International Section schools Association at Saint-Germain-en-Laye International School in 2016 in order to create a federated international school association in France.

Since 2006, API has collaborated in the health workshops organised by Valbonne Town Hall with a series of conferences on addictions to drugs, screens, etc., stress at school, bullying, relationships parents-teenagers, … Beyond the educational aspect of its activities API also helps our children through memorable and entertaining events in their school life:
API initiated and organised the first Terminales Prom in June 2010 with the support of Terminales students and their CPE. The annual Prom has been duly perpetuated since. Now students organise the event themselves and API parents only help on the day with security, cloackroom , kitchen etc. so the students can enjoy their Prom,
API parents supervised the 3eme Prom at Eganaude and CoIV and organised an After Brevet Party at Niki de Saint-Phalle,
Lastly, in July 2015 API organised the supply of gowns for the graduation ceremony. Every student had a gown, a mortarboard and tassel tagged 2015 and a stole with a different color for every section. The gowned graduation ceremony took place in 2016 and 2017 as well.
Développement Christophe Arsonnaud - Chris informatique